Maximize your #Convenes21 experience by helping to create social media buzz!
Whether you're a plenary attendee, speaker, or roundtable member, you can use the social media tools below to share information about the Cochrane Convenes with your networks.
Follow Cochrane Convenes on Social Media
Follow Cochrane Convenes social media accounts and tag us in any posts!
Sample Social Media Posts
I'm attending the #Convenes21 plenary session happening October 14, 2021. Join me? Free registration! https://lnkd.in/d2ds6CyP
#Convenes21 brings together key thought leaders from around the world to discuss #COVID19 evidence response & develop recommendations to help prepare & respond to future global #health emergencies. I'm attending the @CConvenes plenary on Oct 14. https://buff.ly/3B4QFxM Join us!
Free registrations are open now for the @CConvenes public plenary session. https://buff.ly/2Xw8I0z Everyone welcome to join! 14th Oct 2021, 09:30 UTC #Convenes21 @CochraneCollab @WHO @COVID_E_N_D
I'm an Attendee! Join me for an exciting @CConvenes plenary happening 14 Oct. It's the start of a conversation with leaders about what we need to do to improve the evidence response to future global #health emergencies! #Convenes21 https://buff.ly/3B4QFxM
Let's explore this year's theme of "Preparing for & responding to global

#health

emergencies: what we learnt from

#COVID19

" together at  

#Convenes21

! Details: https://buff.ly/3B4QFxM via @CConvenes
Share an 'I'm Attending' Badge
When posting on social media, include a Share Badge! Let people know that you are attending, invite your colleagues to join you, and share what you learnt.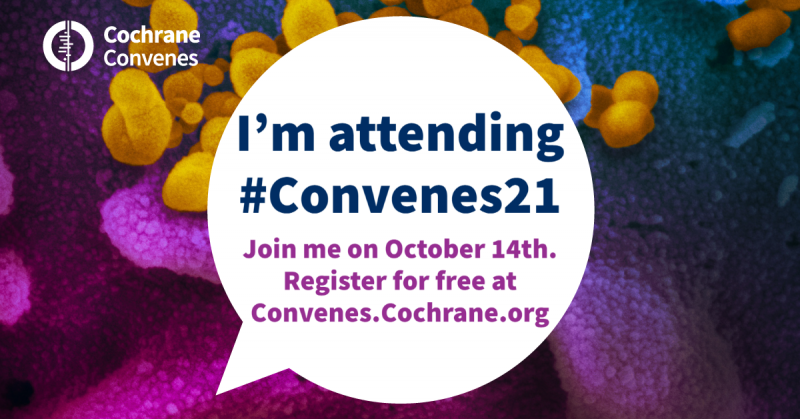 You can 'right click and save' this image in sizes for: Twitter / Facebook / Instagram / LinkedIn